BEST OF SHOW & PEOPLE'S CHOICE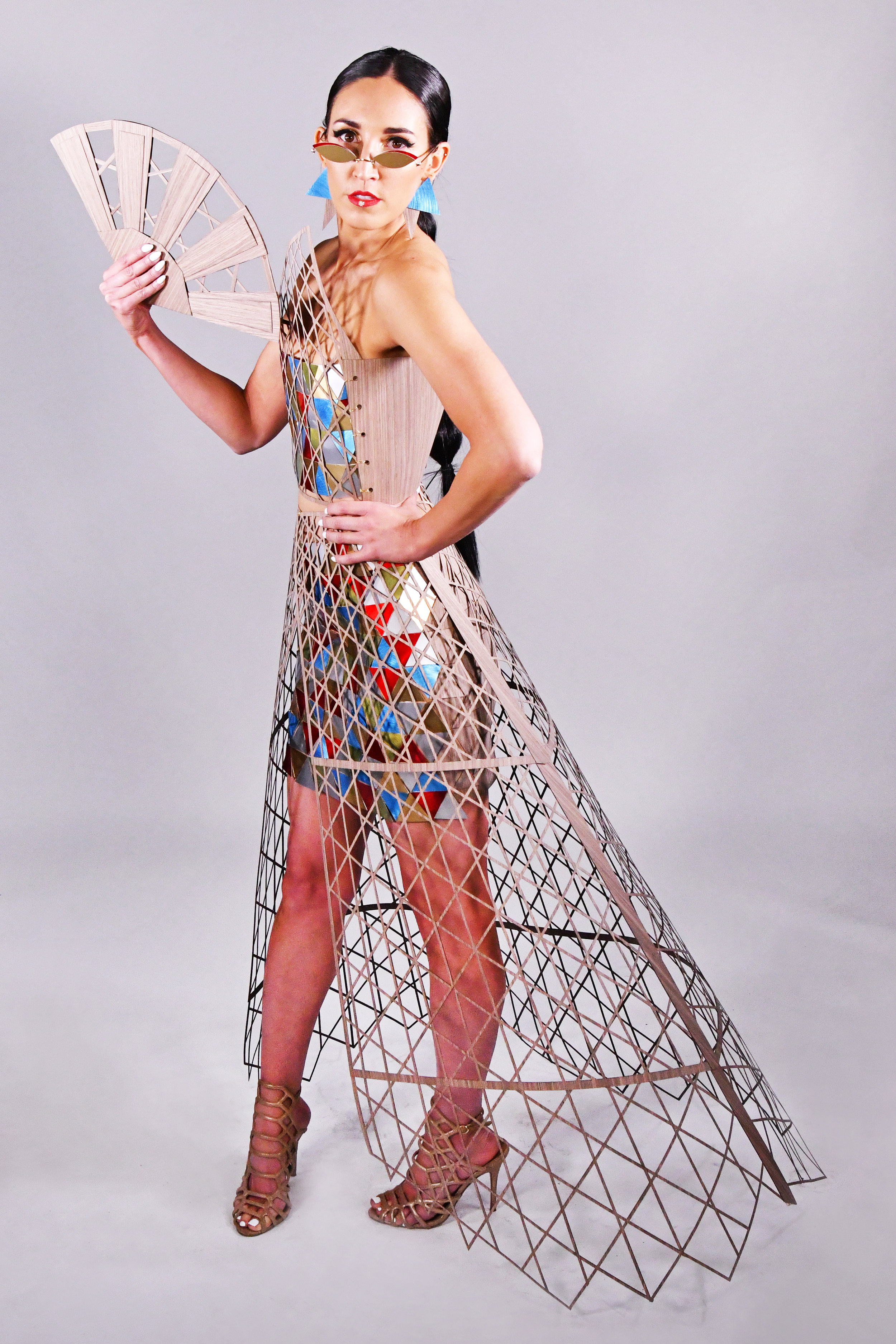 Interior Solutions wearing Chemetal
Team Members
Amanda Wallace - Interior Solutions
Sarah Horst - Interior Solutions
Autumn Shakespear - Interior Solutions
Jennifer Reed - Interior Solutions
Sadie Romney - Midwest Flooring
Design Inspiration
Shigeru Ban
"Interlaced" reflects the defining characteristics of Shigeru Ban — a latticed, structured framework with transparency throughout; a "stained glass" skirt, iconic to religion and, relatedly, representative of human nature to do good together; and an extensive, near total, use of paper product.
MOST INNOVATIVE USE OF HARD MATERIALS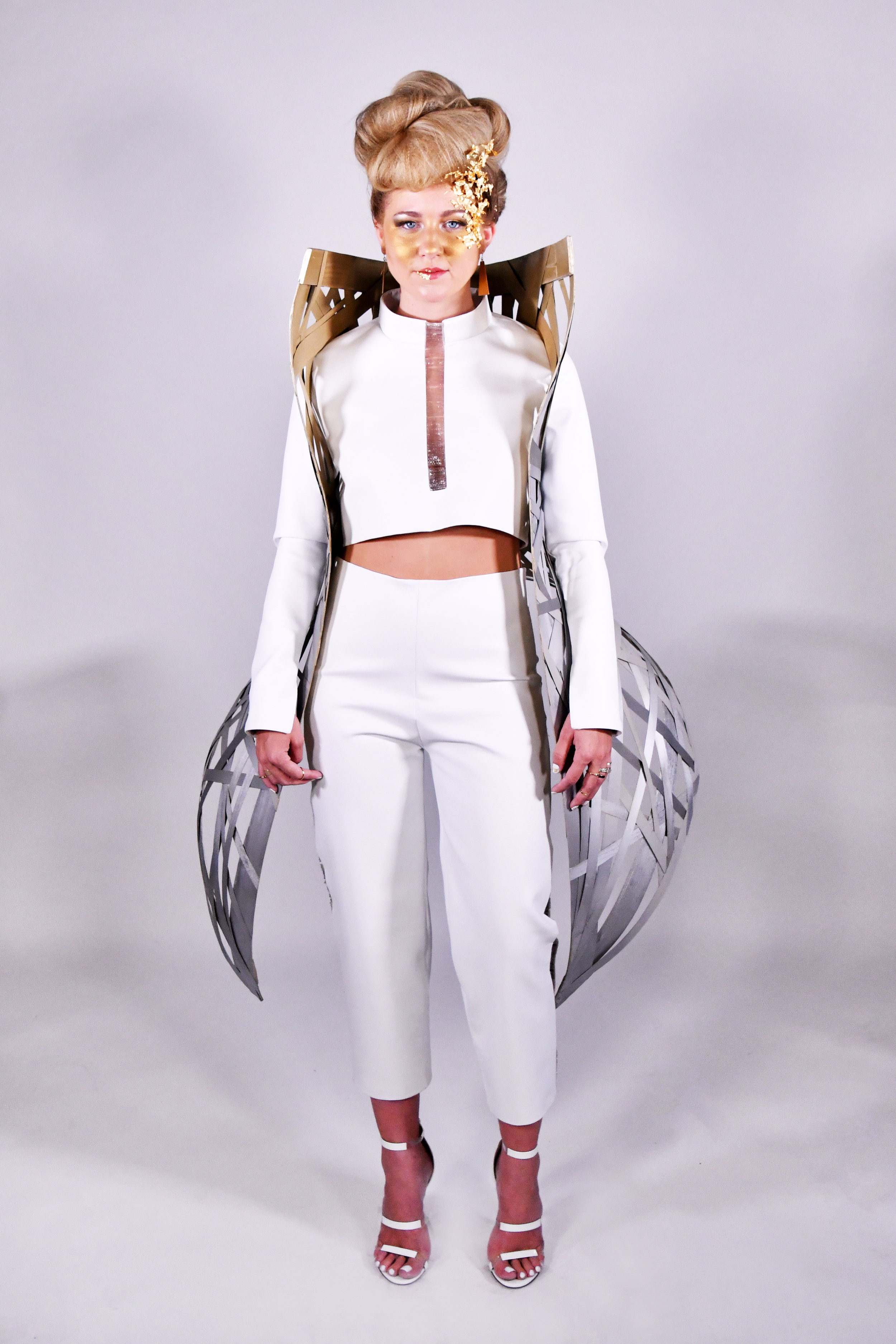 Method Studio wearing Design Source
Team Members:
Lindsay Moore - Method Studio
Hallie Gooch - Method Studio
Whitney Van Alfen – Method Studio
Angela Flicker – Method Studio
Mehrdad Samie – Method Studio
Austin Beaslin - Design Source
Design Inspiration:
Jean Nouvel
Reine de la Lumière (Queen of Light) encircles the model in a woven punctuated shroud that creates plays of light across the clean and minimal white leather structure beneath in a continuous transformation of negative space.

MOST INNOVATIVE USE OF SOFT MATERIALS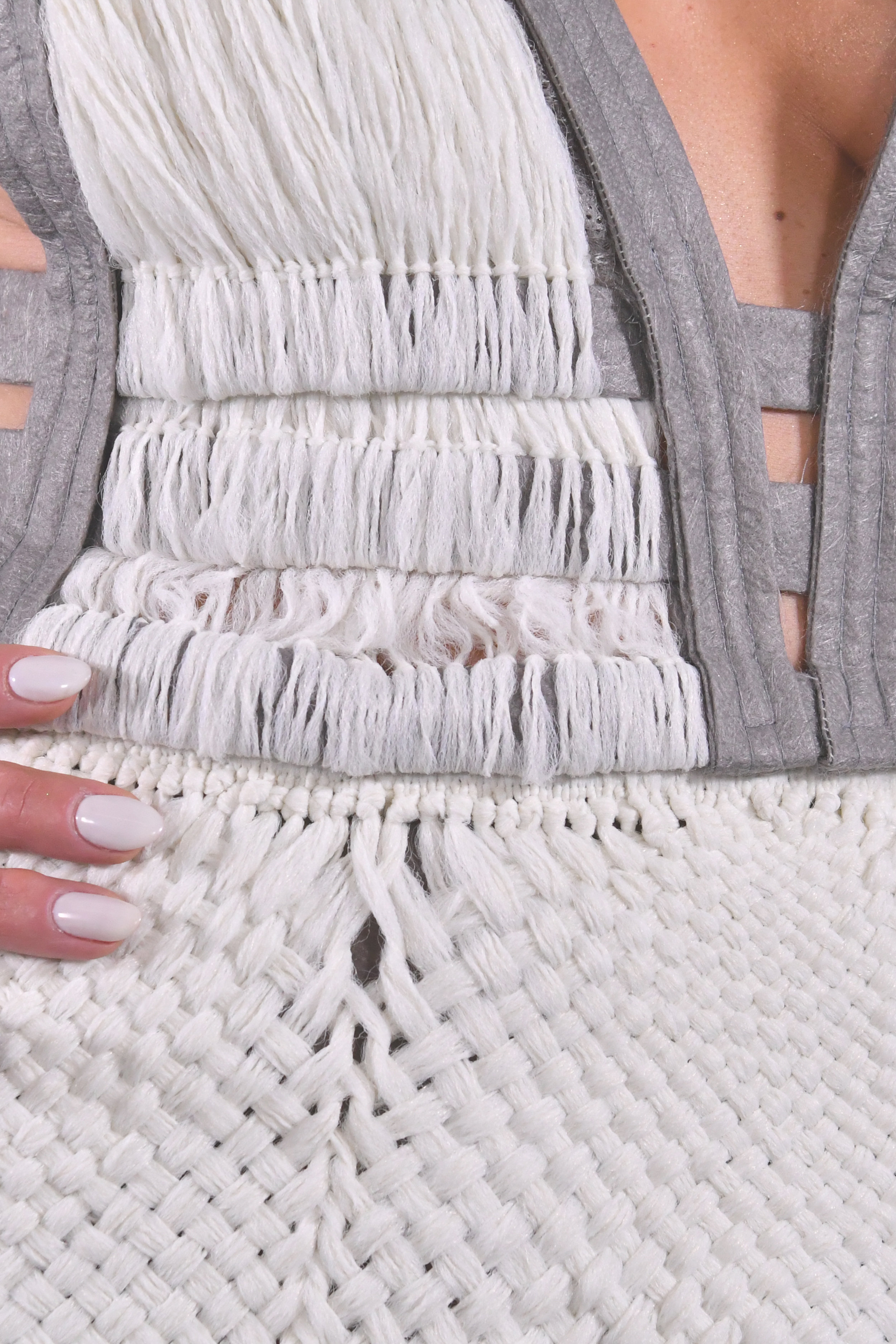 EDA Architects wearing Interface
Team Members:
Whitney Reynolds - EDA Architects
Amanda Jones - EDA Architects
Nelson Hansen - EDA Architects
Sophia Malik - EDA Architects
Nick Jones - Interface
Design Inspiration
Ronan & Erwan Bouroullec
Drawing from the Bouroullec Brothers and Interface who both look to the imperfect forms of nature's beauty for inspiration, we created a dress from deconstructed carpet that utilizes variation to create solid and void textures.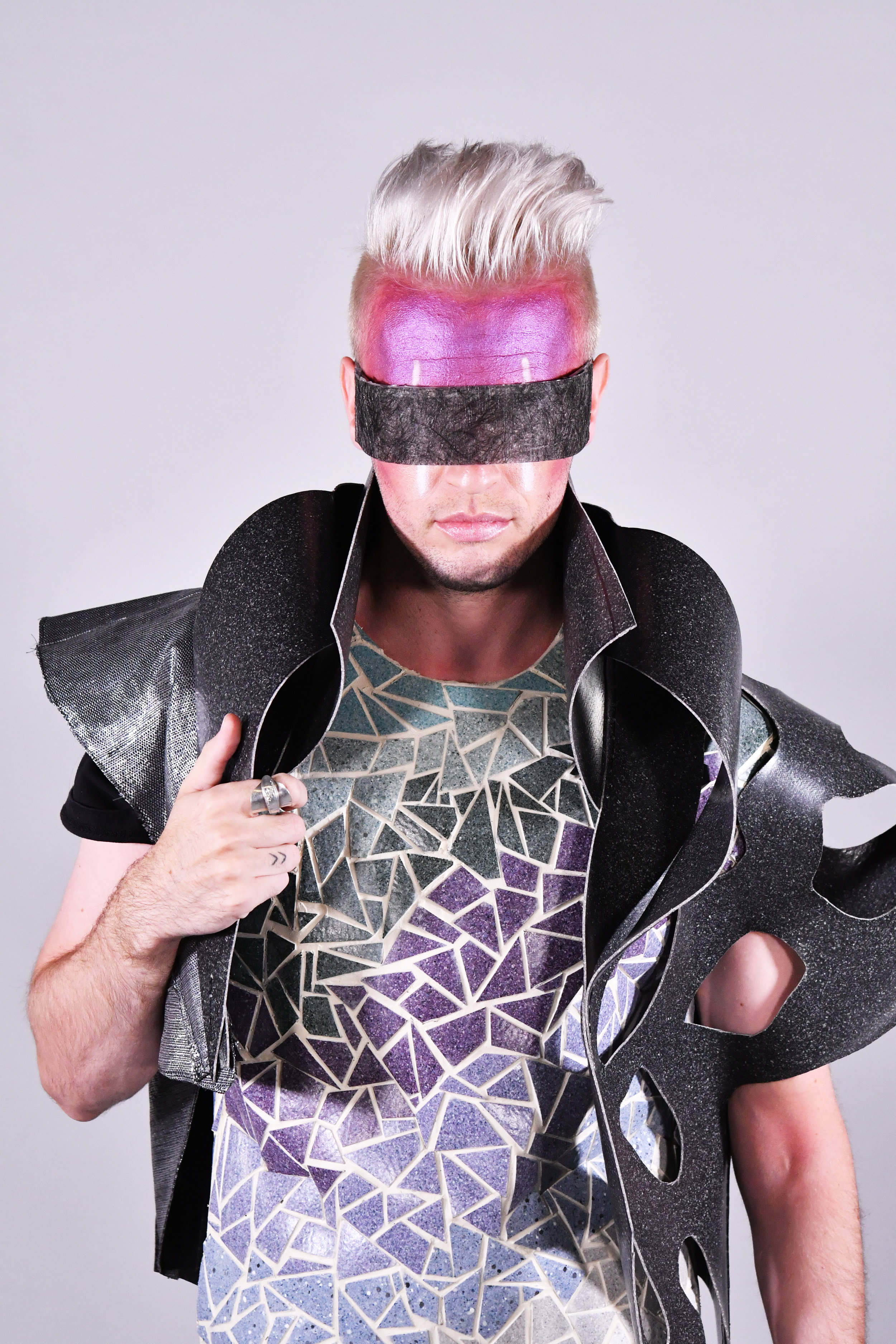 Salt Lake Community College wearing Mannington

Team Members:
Courtney Andrews - SLCC
Dakota Anderson – SLCC
Chunte Burshe – SLCC
Noelle Misewicz – SLCC
Gustavo Zamora - Mannington
Design Inspiration:
Antoni Gaudi
Modernistic nature gives our piece, "Au-delà de l'imagination", elegant curves and simplified gothic aestheticism. Antoni Gaudi was known to curvaceously portray solid materials; inspiring us to creature structured fluidity imbued by the Casa Milà.

Prescott Muir wearing Canter & Associates
Team Members:
Ashley Iordanov - Prescott Muir Architects
Cynthia Bithell – Prescott Muir Architects
Megan Clark – Prescott Muir Architects
Maggie Winter – Prescott Muir Architects
Melissa Glover - Canter & Associates
Design Inspiration:
Gottfried Böhm
Our design explores the collision of a colorful rigid material with an achromatic malleable structure. It plays with the dichotomy of masculine and feminine forms with the dress being composed of sharp masculine angles that echo the feminine curves beneath the construction. Bold colors erupt from the soft gray mass embodying the energy created by the collision of opposing concepts.
GSBS wearing Johnsonite
Team Members:
Rebecca Hardman - GSBS
Hailey Owen - GSBS
Jill Miles – GSBS
Ellen Nygaard – GSBS
Holly Rudell - Johnsonite
Design Inspiration:
Oscar Niemeyer
Inspired by Oscar Niemeyer's Brazilian architecture; Moda de Azul embodies his use of abstract forms and curves. Johnsonite's straight, hard and inflexible products where manipulated to create a natural free-flowing fashion in blue.
In 2018 we had 20 designs in the Fashion Remix show. The amount of hard work, time, creativity, and effort that goes into these creations cannot be understated. Every year we are immensely proud and amazed by what our community can do! So even though just a few designs can win, every team deserves to be highlighted. See below for a gallery of the entire show.
Thank you to our 2018 Fashion Remix Event Committee!
Co-Chair . . . . . . . . . . . . . . . . . . . . . . Julie Barfuss (BYU Facilities Planning)
Co-Chair . . . . . . . . . . . . . . . . . . . . . . Gritt Batchelor (K. Rocke Design)
Ashley Barton. . . . . . . . . . . . . . . . . . Cystic Fibrosis Foundation
Madison Butterfield. . . . . . . . . . . . Knoll
Jenn Celestino. . . . . . . . . . . . . . . . . . Method Studio
Becky Kendrick. . . . . . . . . . . . . . . . . Momentum
Corey Mahieu . . . . . . . . . . . . . . . . . . Maharam
Mojdeh Sakaki. . . . . . . . . . . . . . . . . . SLCC
Jessica Skidmore. . . . . . . . . . . . . . . . VCBO Architecture
Deborah Warren. . . . . . . . . . . . . . . . DesignTex
Also thank you to our 2018 Fashion Remix and Annual Sponsors
2018 Fashion Remix Proceeds Benefit: